Disco Bear
A playful interactive experience about a dancing bear.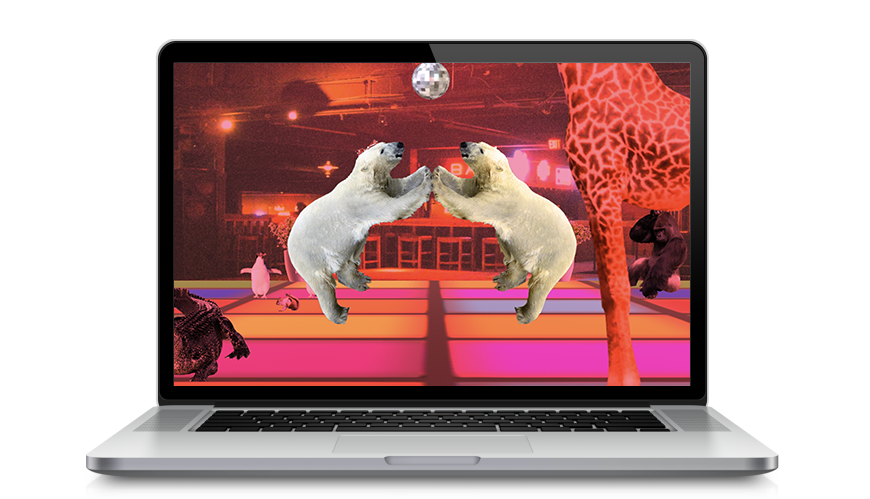 About
Disco Bear is the heartfelt story of a bear being asked to dance again. Across this short, ten minute long experience, you play the role of Bear, an expert dancer, as shenanigans unfold around him - possibly with some heartache along the way, and all with photoshop cutouts of real polar bears photos too!
Team Disco Bear was created for a master's course at the University of Southern California by a three person team consisting of myself, Brian Handy (co-designer), and Bill Piyatut H (music composer) in Fall 2016. This project is targeted toward those who are familiar with and enjoy internet meme humor.
It is available to play for free in browser at www.discobeargame.com.
I wore multiple hats on the project as co-designer, including:
Prototyping original dancing bear movement and concept

Finding photos under a creative commons license and editing them in Adobe Photoshop

Co-designing a three-part "redemption arc" narrative

Applying Koreographer plug-in to animate assets based on musical beat

Implementing assets into the Unity game engine

Timing the story beats that occur during the experience.
Ideation
Early Prototype
Brian and I decided to focus on 'comedy' for our project and listed as many things we could think of on the subject in a mind map. We were also curious about how simple interactions could invoke a powerful reaction from the player. Our inspirations included SUPER PSTW ACTION RPG, Octodad, SpongeBob, and internet meme humor. Brian and I separately made a prototype on the topic; one involving howling siamangs and another with a polar bear dancing to You Should Be Dancing by the Bee Gees. After testing it with our peers, we found that people responded well to a dancing polar bear and moved forward with the dancing bear concept. The mechanics of the siamangs prototype came back later in the form of the dialogue scenes.
Audience Experience Goals
An interactive experience that invokes joyful, whimsical, and amused laughter.

Experience the heartfelt story of a retired bear being asked to dance once more.
Design Goals
Invoke laughter primarily from the player's interactions with the piece by means other than awkward controls.

Allow the player to focus on the enjoyment of the piece instead of on challenge.

Create a screen based experience with either gamepad or mouse and keyboard controls.
Development of the project took about 15 weeks. After that initial time, we decided to post Disco Bear on its own website for people to play.
Designing the Narrative
The narrative takes place in three parts: the tragedy, Bear's depression, and Bear's redemption. We were heavily inspired by an episode from South Park called You Got F'd in the A where Butters accidentally causes a chain reaction of murders during a tap dancing competition. Bear's story takes itself way too seriously, which lends itself to a particular kind of internet meme, like humor.
Early on in development, we flushed out the story beats in a macro document of the project. Brian also consulted with Eileen Mary O'Connell (Twitter, Website) on comedy during early production.
Brian and I also took a field trip to the Los Angeles Zoo. Unfortunately, we did not see any bears and were very disappointed.
Part way through development, Team Disco Bear gained a new member; Bill Piyatut H., a composer who was attending USC's Thornton School of Music at the time. He was able to provide us with five different tracks for the game.
We did not have a sound designer on this project, and therefore used creative commons licensed sound files found on the web for sound effects.
Download a txt file with a list of sound effects and image files used here.
Playtesting
Besides the multiple playtest sessions that happened during our class, Brian and I also playtested the game with a number of our friends. This allowed us to gain some valuable input and improve the usability of the project.
I personally tested a more gamified version of the experience where players had to dance on the beat to progress in the game. This version also came with a scrolling visual that told them the appropriate time to hit an arrow key, like in Dance Dance Revolution or Guitar Hero. However, we found that the visual was too distracting and players were not paying as much attention to the dancing bear or story as we wanted them to. We decided to move forward with a different approach and focus on guiding the player through the story even if they decided not to interact.
Presentation
Showing it off
Disco Bear has been shown at a number of events including at the IndieCade Showcase @ E3 2017, IndieCade Night Games Exhibit 2017, and Fantastic Arcade 2017. The project was also nominated for Best of E3 2017 - which was increadably unexpected - and was hilariously deemed #1 Bear of E3 2017 by Brad Bourque (Digital Trends).
It was shown for the first time at E3 2017 and I was quite nervous to how people would react to it at first. However, the project turned out to be incredibly popular! Although it is a single player experience, spectators gathered around to watch what was happening on the screen. On the second day of E3, we even set up an extra pair of headphones for those who also wanted to listen to what was going on while another person played. It was incredibly satisfying to see our project goals being met, especially in this kind of setting.